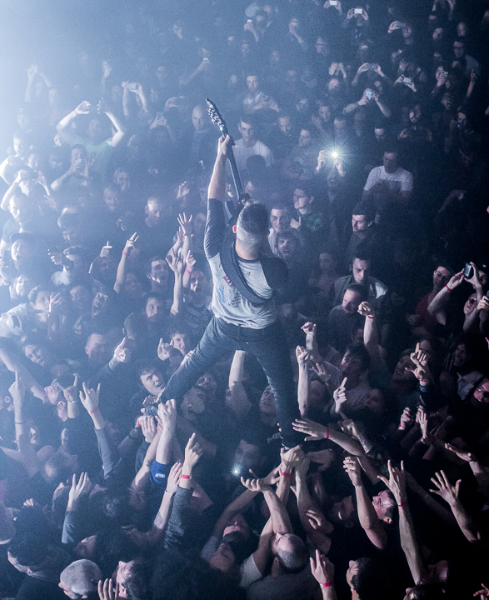 THE SYNDICATE - RADIO
Since 1998, The Syndicate's award winning radio departments have advanced the careers of a wide range of artists. By cultivating lasting relationships with stations and their music and program directors, The Syndicate goes far beyond just breaking records at radio.
ALTERNATIVE SPECIALTY
The Syndicate has long established itself within the Alternative Specialty format by promoting to new music show hosts, and holding time-trusted relationships with music and program directors across more than 75 Alternative Specialty shows nationwide. Our team has worked with artists that include Spoon, CHVRCHES, Jack White, Parquet Courts, Father John Misty, Japandroids, to name just a few
When it comes to College and Specialty Radio, The Syndicate is my go to team. I consider them an extension of the Columbia Records staff. No one has more experience, knowledge and passion at those radio formats.
- Mike DePippa, VP Alternative & Rock Promotion, Columbia Records
COLLEGE
The Syndicate has connections with more than 300 NACC reporting college/community radio stations throughout the United States and Canada. For five years consecutively, The Syndicate's college radio team has been voted Promotion Company of the Year at the CMJ College Radio Awards. Our team has worked with a variety talent including: Daft Punk, Pearl Jam, Jack White, My Morning Jacket, Spoon and more recently St. Vincent, M83, CHVRCHES, Portugal. The Man, Parquet Courts, (Sandy) Alex G, Death Cab For Cutie and many more.
COMMERCIAL ALTERNATIVE
With collective industry experience spanning over 30 years, The Syndicate's Commercial Alternative radio department is at the forefront of breaking new and well-known artists including M83, Passion Pit, Catfish and The Bottlemen, ODESZA, and many others. The Syndicate's deep rooted relationships at the Commercial Alternative Rock format, include SiriusXM's Alt Nation, and Mediabase reporting stations KROQ, KITS, WKQX, WEQX, WWCD, WRFF, and more.
LOUD ROCK
Over the years, The Syndicate's Loud Rock department has become an invaluable resource to the metal community. Specializing in bringing left-of-center music to radio, the Loud Rock team nurtures the growth of new, unsigned acts, and extends their reach far beyond that of normal self-promotion. Loud Rock's radio campaigns allow these bands to be heard in the same breath as household names such as Lamb of God, The Sword, Dethklok and Kvelertak have worked with The Syndicate since the beginning of their careers, and our team continues to play an instrumental role in the continued growth of acts like Black Sabbath, Metallica, Clutch and Ghost BC, amongst others.
Without the support of The Syndicate and Metal Insider, we would never made such a resounding comeback with our latest album. The dedication they show the underground scene is pivotal to burgeoning bands as well as long running acts like Byzantine.
-Chris Ojeda, Byzantine
TRIPLE A/ NON COMM
The Syndicate further develops artists at the non-commercial Triple A (Adult Album Alternative) format. With a broader, more diverse playlist that focuses on new music discovery and digging deeper into the careers of heritage artists, Triple A is a natural home for new music and independent artists. By focusing on the FMQB and Mediabase reporters, which include renowned stations like KCMP, KCRW, KEXP, KUTX, WFUV and WXPN, our team introduces artists to Triple A outlets that focus on genres ranging from classic rock, folk and blues, contemporary, and modern/indie rock.